What Is a Pooled 401(k) Plan and Which Are the Best Ones For Physicians?
A pooled 401(k) plan is one where the participants put all of their investment money into one pooled account. That account is where the investments will be funded from. The money is all co-mingled and is then managed by a professional investment manager.
This kind of retirement saving plan was very popular back in the 1980s. They kind of faded away for a while but now they're on their way back up on the popularity wheel. There are some good reasons for having one of these kinds of plans, so let's talk about what the pooled 401(k) is.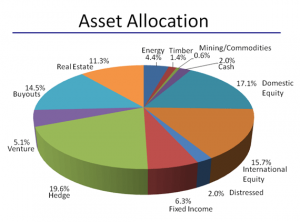 https://images.app.goo.gl/jHn6ASQnksX7X4ZE7
First off, look at the pie chart above. Does that mean much to you? How about the term 'asset allocation'?
You're an intelligent individual so I'm sure you have some kind of thought process about that chart and those words. But it's most likely pretty limited. Some thought processes and some knowledge are not enough to make you an investment expert.
What Is a Pooled 401(k) Plan? 
This is a type of pooled retirement savings and investment plan that lets participants put their money into one account and have an expert make decisions for everyone involved.
Most of us have limited knowledge, at best, about the investment world. The pooled 401(k) lets a professional be in charge when it comes to the portfolio, the asset allocation, and a whole slew of other stuff we may not understand.
The pooled feature of this account allows for greater returns, too. Every participant's money gets pooled in the account with others' money. That means there's more money to invest with.
More money to invest with means more opportunity for diversification, greater amounts of money to allocate to certain assets, so a farther reach to get a better result. More money also pays for the expert who is going to manage the account into making great returns.
This video gives an easy-to-understand depiction of how pooled funds work to your benefit:
https://m.youtube.com/watch?v=qAQ_QE9Q6p8
How Much Does Each Participant Get In Returns? 
The returns are split fairly. Each participant's share of the profits will be based on the proportion of the money that they had put into the pooled account.
Here's the thing though.
You could stand to get greater returns from this account than you would with that same amount of money in a participant-directed 401(k) plan. Why? Because the investments funded from the pooled account can be so much bigger because of the pooled factor. Also, because again you have an expert in your corner that you wouldn't otherwise have.
Won't This Cost More Money—Working With an Expert?
That's the best part. It all goes back to the pool of money from all of the participants. It doesn't cost more money because the account has way more money than your standalone account would have in it. You and the other participants have thrown all of your change in the piggy bank together, so now you can afford more without contributing more.
The pooled 401(k) plans cost less for other reasons. Participants don't need the same support services with these accounts because there isn't anything for them to do. The investment manager takes care of almost everything.
There's less paperwork, less cost, less stress (for everyone who's participating), so it's a great option for offering to your employees.
Small Practices Are a Good Fit For Pooled 401(k) Plans
You're already a doctor. There's always been talk about doctors and malpractice. You're governed by a lot of legislation borne out of the ills of years past.
That is enough for you to have to worry about. You don't need to be worrying about getting sued over the 401(k) plan you've chosen for your employees as well. Suing over bad investments, non-results, high investment costs and more has happened to some employers.
Offering a pooled 401(k) plan gives you some protection from the liability that comes from being an employer offering retirement savings. It sounds silly when you say that out loud, but you just have to be real about things.
The pooled 401(k) plan puts you in a position where there is someone else who is making educated decisions on things having to do with the plan. The investments are decided on by this person. That person takes care of compliance issues, too.
This kind of plan will take the stress off of your plate and allow you to focus on what you need to be doing, practicing medicine. Also, you'll all likely get much better results from your retirement savings plan.
The Best Pooled 401(k) Plans For Physicians 
So, the good news is that once you've decided to offer this kind of plan in your practice, you can use a discount brokerage as the custodian of the account. Here's our list of who's the best:
You really can't go wrong with Vanguard. They have the lowest costs for most kinds of investment accounts across the board. They're also extremely reputable and easy to work with, website-wise and customer service. 
Fidelity is like the little brother who wants to be just like his older brother, Vanguard. That's perfect for you though because that means they're emulating a company that we already think very highly of. It sounds like a good judgment to me. 
This company is very upfront about things. They've been in the game for some time now. Fees are low and options are high, so this could be a good choice, too. 
Another familiar name in the game, Schwab has a lot of helpful resources for planning for retirement. That says to me that you'll be working helpful people in giving good service. The company offers a lot of financial products and would be a great choice for this type of account also.
Some Things Make It Back Around
Pooled 401(k) plans were around back in the day. Sometimes something has to go away for a while for its value to be known. And here they are back again.
Pooling money in an account like this gives participants access to an expert to manage their investments that they wouldn't have otherwise had. Their money will stretch further too, bringing them potentially greater returns. This kind of retirement plan will help your employees reach their retirement savings goals more efficiently.
Are you offering a pooled 401(k) plan already? What have you decided on its benefits or not? Please let us know what you think. Your knowledge will help others who are trying to make decisions on which type of account to go within their practice.
Reference links:
https://finance.zacks.com/pooled-investment-accounts-1149.html
https://www.investmentnews.com/article/20170329/BLOG09/170329909/pooled-employer-plans-set-to-dominate-small-401-k-market