September Surviving The Storms: How To Financially Prepare & Bounce Back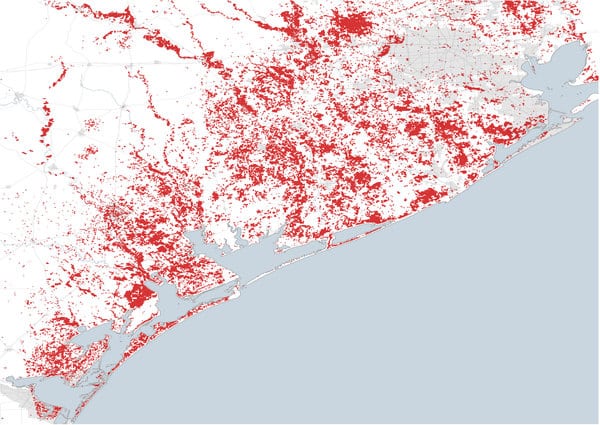 Hurricane Harvey has dealt immense devastation on our nation. More storms could be on their way. How do we prepare and recover from these disasters financially?
Record breaking damage from Harvey, and expectations of a highly active Atlantic hurricane season are creating increasing urgency is preparations, planning, and taking action to be physically safe, and ready to rebound financially.
Our thoughts go out to all those impacted already. As well as the strong emergency workers and medical professionals working overtime and volunteering to help. Often despite being in physical danger themselves, and often not knowing the status of their own homes, investments, and family members. The personal loss is incalculable, and cannot be taken lightly, yet far more pain can be avoided and minimized by making the right moves now.
Houston flood map from the New York Times:
The Record Breaking Costs of Hurricane Harvey
Dallas News reports that residential property potentially affected in Southern Texas by Harvey alone could be around $400B. That doesn't count commercial real estate. Commercial property data firm, Costar reports that there are 12,000 properties, spanning 400 million square feet, in the Houston area 500 year floodplain. Then consider the annual GDP of the Houston area alone is $471B, according to the Federal Reserve. To put this in perspective hurricane Katrina only cost about $100B in damage. Only about half of that damage was covered by insurance.
Note that the Atlantic Hurricane Season runs all the way into November. Forecasters predict this will be a very active year with, far more than the average number of storms. The latest predictions call for as many as 19 named storms, 9 hurricanes, and 5 major hurricanes. This is in addition to Pacific cyclone and typhoon activity which has already threatened the West Coast.
It is very difficult to calculate the true damage of these storms. They affect so many organizations, on so many levels, over such a great deal of time.
Much of the focus is on homeowners. Many homes are completely destroyed. Others will have major damage. Some may have medium damage that will lead to complete loss if not secured and repaired fast. Others may just have cosmetic damage than can affect property appeal and values. Sadly, many may now owe more on those homes than they are worth. Worse, they may not be able to sell them or rent them, but may still be on the hook for mortgage payments, property taxes, and insurance premiums. All while living costs are going up, and they may not be able to work and earn income. Many will find that with a big pivot in their finances, this will get worse, and could have consequences for the rest of their lives, and the next generation.
Investors and banking institutions can be impacted by this both directly and in directly as assets are hit, or dive in performance, and require new injections of capital. Harvey will also certainly changed the population. Many have been forced to evacuate, and in shelters in Dallas, and will want or have to move to new cities. This will change demand for properties from homes to rental apartments, retail and office space. Other more northern Texas cities may be among the biggest beneficiaries of this. Though it will likely lead to housing shortages and higher rents and home prices in these new destinations too.
Map of shelters for Harvey evacuees:
GET HELP SELLING YOUR HOME & FINDING NEW HOUSING HERE
The Keys to Being Prepared
There are a number of things we can do to financially prepare for storms like these.
Having some type of financial cash cushion is a good start. A good goal is 3-6 months of basic living expenses. Once you surpass that, park and put money to work in investments where it is working for you and multiplying.
Having insurance is the second most common type of backup. Of course many are underinsured. Many of those hit by Harvey probably don't have hurricane and flood insurance on top of regular business or homeowners insurance. They may receive nothing from their insurance companies. Many others will find they get a small fraction of what they need. It could take years and a lot of legal costs to even fight for and get that.
Having alternative income streams, and specifically passive income investments is critical during these times. If your company is down for months, or goes broke, and you can't work, you need to have money coming in.
These investments should also be well diversified geographically. For example; even if you had 100 properties in different niches in Houston, they may now all be gone. If you had some on Houston, some in LA, and some in Dallas, you would still be receiving monthly income, and have some assets.
Rebuilding
Houston will rebuild. Texans are strong. Yet, it requires smart planning, management, and preparation to rebuild, and do it well.
First, you need the money. Even if you are hoping for insurance money, you need to secure and patch up your property now. You can't count on that payout. Other investments can help pay for that, and cover the time gap.
You need a plan, in advance, to get pre-selected contractors out there to secure and prevent more damage to your property. They will be in high demand, and materials will be very scarce, if you haven't stocked up on them in advance. Contractor prices can also escalate dramatically, and their wait times can quickly go from weeks to years, even if you have the money.
Make these plans, put these people in place, and have materials like tarps, all in advance.
Reviving Your Finances
No matter how prepared you were, there will definitely be a need to revive, replenish, and rocket finances. That applies whether you lived in a storm hit area, just had to bailout family there, or had investment properties impacted.
There will be no time to waste. Get on those insurance claims. Find a way to get income coming back in. Begin restructuring your portfolio. If needed and possible consider leveraging other assets to expand and diversify your real estate and income property portfolio.
Getting involved in flipping may help produce cash faster. Private lending can alleviate the pain and worry of physical property ownership, yet deliver great returns and passive income.
Look for savvy and experienced asset managers who are prepared, have plans to deal with future storms, and know how to handle it. I've invested from Miami to Los Angeles, to Dallas, and know each location has its own risks, but that there is a lot that can be done to defend against them, as well as seeing the pains of others who weren't prepared.
Summary
My thoughts go out to all those affected by Harvey, and who are on the frontlines trying to provide urgent help. This is going to be a big one to recover from. Yet, there are practical steps to take to recover. Be safe, proactive and positive, take the next logical steps and look to the future.