10 Reasons To File A Tax Extension This Year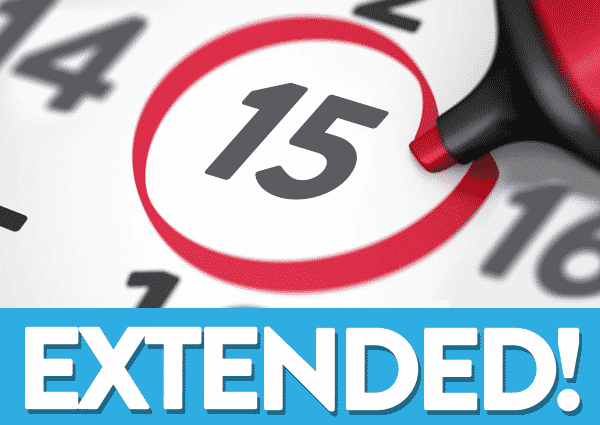 Filing an extension for federal income tax returns could be one of the smartest moves to make in 2017.
According to 38 year financial and tax expert June Walker, and double Masters degree holder and financial expert for Wise Bread, Damian Davila, filing a tax extension is "the smart thing to do." Yet, it is also one of the most intelligent moves that even smart people make the mistake of not doing.
Why consider filing an extension for your federal income tax returns this year?
1. Lower Risk of an IRS Audit
If you make blatant mistakes, rush it, or just fail to extend your filing date and pay your taxes you may find yourself a ripe candidate for additional IRS scrutiny. If there is one thing no one gets away, no matter how grand their celebrity or infamy it is not paying taxes. So, avoid the extra and unwanted attention from the Internal Revenue Service, and file an extension.
2. Taxes are Complicated
Even if you get all your K-1s, 1099s, and W2s in on schedule, there can just be a lot of numbers to juggle. The time given before the standard filing deadline is just too short to prepare well, and that makes the IRS a ton of money. Buy the time to do your taxes right.
3. Enjoy Relaxing While Everyone Else Panics
The April tax filing madness is crazy. People are running around to wait in extremely long lines, they are stressed out, and even if they get a tax refund they normally blow it at just the wrong time, when car salesmen are taking advantage of the surge in business. There is no need to put yourself through it.
4. Life is Complicated
Life can be complicated, and it rarely pauses the chaos just so that you can give the proper attention to your taxes. Between divorces, new loves, kids prepping for graduation and finding colleges, spring break, Easter, and daily business, there is a lot going on. Some of these things can prevent you from filing your taxes on time. It's better to get the extension instead of going rogue and hiding from the tax man for the next year.
5. You're Not a Tax Expert
Even if you are highly intelligent and financially savvy, there is a huge gap between most people and veteran tax experts who have been doing this for years. This is not a task you are going to knockout flawlessly yourself in a couple of hours. Take the time to do your taxes well, and to shop various opinions on your options and liability.
6. There's a Lot of Paperwork
Unless you have a full time assistant and bookkeeper, and are an extremely detail oriented person who flawlessly records every penny spent or moved immediately, chances are you don't have all the right paperwork. That means leaving tens of thousands of dollars on the table, if not way more. You'll be getting a big bill for that if you aren't organized. There are even bigger liabilities and potential savings for those with real estate investmentsand multiple companies.
7. Millions of People File Tax Extensions Every Year
According to File Later over 10M taxpayers file an extension every year. It's an automatic 5 to 6 month extension granted by filing out a simple IRS form. You don't even need to have a reason to do it, and it's free!
8. You Are Still Waiting on Tax Forms
Not all investment firms, employers, or clients will get you're their tax forms on time. You may even find that forms are wrong. This is especially true when it comes to those filed in regards to real estate closings. Wait till you get the correct forms to file.
9. Tax Preparers Are Too Busy
April is like Black Friday for tax preparers. They are slammed. Even the experienced who know what they are doing can make mistakes in the rush, or may miss out on opportunities for you to save. Wait a couple of months and you'll find tax professionals are begging for your business. They'll review your taxes for you and look for every way to possibly save you a dollar so that they can earn your business. You may even enjoy lower fees.
10. New Tax Changes
New attempts at tax reform are in the works. They may or may not get passed, but some rules could be changed, extended, or potentially even get backdated. It's a lot easier to pay a lower correct amount, than to try and claw back money you overpaid to the IRS. Note that just because you get an extension to file, you still owe tax on the same April date. Making an estimated tax payment may save you from some penalties and interest, but do be wary of overpaying.
If you haven't filed a tax extension before you may really enjoy the benefits of doing it this year. Talk to a tax professional about the benefits for your specific circumstances. Then work with them to create a sound year round and long term tax saving strategy including vehicles like 1031 exchanges, trusts, business entities, and self-directed IRAs.
To find out more about smart tax and real estate investment moves, or for recommendations to savvy CPAs who have been handling tax filings for other sophisticated investors and high income earners request a complimentary consultation with the founder of Investment Club 360 and Funding Nest here.